Typical fluidized bed coating line
Case Studies
Home >> Typical fluidized bed coating line >> Fence mesh fluidized bed coating line
Fence mesh fluidized bed coating line
View form the end of curing furnace

Whole view of fluidized bed powder coating line

Fence post coating line

Powder coated mesh fences after curing treatment

Powder coating factory

View from the end of curing furnace

Gas burner being installed

Gas heating unit for mesh fence powder coating line


Description of fence sheet powder coating line:
This Powder Coating Line is used to provide an anti-corrosive surface treatment for mesh fence, wire mesh fence, sheet, expanded metal mesh fence, fence sheet, fence mesh, isolated gate and matched posts. As one kind of safety security, the finished products are great to be fencing for highway, railway, airport and so on.
Layout Plan of fluidized bed powder coating line: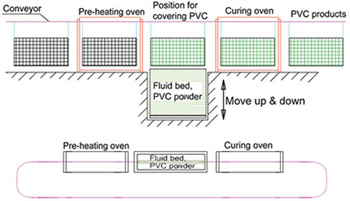 Main technical parameters of wire mesh fence PVC coating line:
(1) Max. size of mesh fence: 4000mm long * 2500mm wide
(2) Coating speed: 40~60 sheets per hour
(3) Power consumption: installed capacity 60kw, average power 50kw
(4) Oil consumption: 2200-3000m3/24h
(5) Water consumption: 0.6 -1.2 m3/h (circulating water)
(6) Plant request size(L*W*H): ≥50000mm *14000mm * 5000mm
Process flow of fluidized bed powder coating line:
Manual feeding - Pre-heating - Auto powder immersion - Curing - Coated workpiece cooling - Manual discharging - Manual shaping correction - Quality control - Final package
Composition of a complete powder dip-coating line:
(1) Auto eletrical pre-heating & curing furnace;
(2) Auto coating powder up-and-down device, vibration generator, fluidized bed;
(3) Hanging delivery system, special hanger for workpiece;
(4) Power supply control equipment, auto program control.
Application of powder coated mesh fence: